Basics for 1480 school children in Siam Reap provided
On-site help that works well: Geberit Social Project 2019
In November 2019 together with Geberit we reached another milestone in our endeavour supporting Cambodia.

The renowned Swiss company Geberit carried out its social project in 2019 in a partnership with Kamboo Project in Cambodia. Two schools in the region around Siem Reap received new infrastructure built from scratch. This included student and teacher rooms, a drinking water supply facility as well as several sanitary facilities. A total of 1480 school children and 47 teachers receive help in meeting basic needs in day-to-day school operations.

As part of our school program, we examined around 50 schools in the Siem Reap region and Geberit proposed the two schools "Arranh Rangsey Primary School" and "Wat Roka Primary School" for the project. There was not only a lack of basic infrastructure for many schoolchildren, but the visible commitment of the teaching staff shows good conditions for a sustainable impact. Kamboo Project supported the planning and implementation of the construction work on site and was the local interface between Geberit, the two schools and the school authorities. In addition, we will support the two schools in the coming years to keep the infrastructure in operation. The two-year hygiene program WASH especially developed for the project helps schoolchildren and teachers to learn and live hygiene in their everyday lives.
PROJECT INFORMATION
Arranh Rangsey Primary School
Location:

Trapeang Toem Village, Kandaek Commune, Prasat Bakong District, Siem Reap Province, Cambodia
Date:

Second half of 2019
PROJECT INFORMATION
Wat Roka Primary School
Location:

Kanhchor Village, Roluos Commune, Prasat Bakong District, Siem Reap Province, Cambodia
Date:

Second half of 2019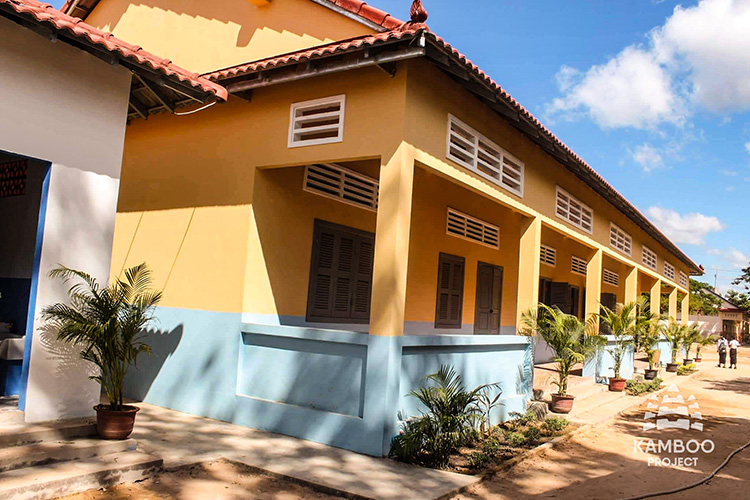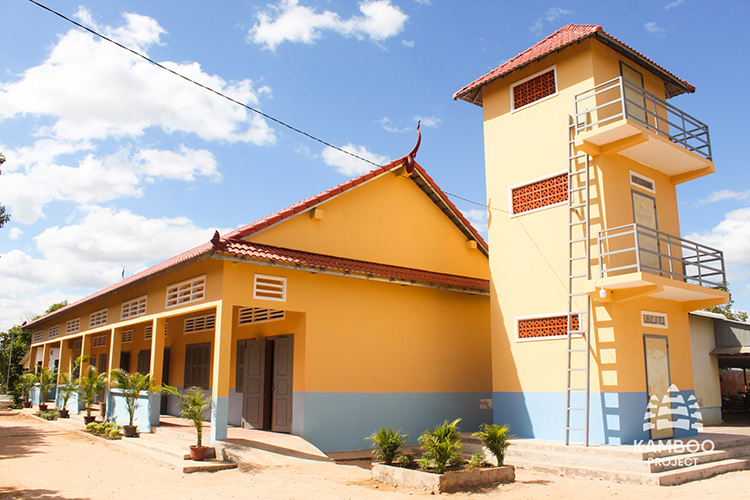 See the inspiring work which was done in 2019
Comprehensive services for two schools
Services for the «Arranh Rangsey Primary School»
Services for the «Wat Roka Primary School»
School building with 2 large classrooms and pleasant temperatures for schoolchildren to study
Water building with filter system that cleans the groundwater and provides good quality water (includes regular laboratory water quality control).
Protective wall for school to separate it from the adjacent traffic road
342 school children and 13 teachers benefit from the new facilities and the hygiene program.
Control systems and maintenance procedures ready to use for the next few years
Contribution Kamboo Project
We are looking for corporate sponsors: get on board and participate in our vision!
Kamboo Project is looking for companies and foundations
that support us in implementing similar projects in schools and communities
near Siem Reap in Cambodia.
We would be happy to inform you about our experience and
current opportunities in a face-to-face conversation!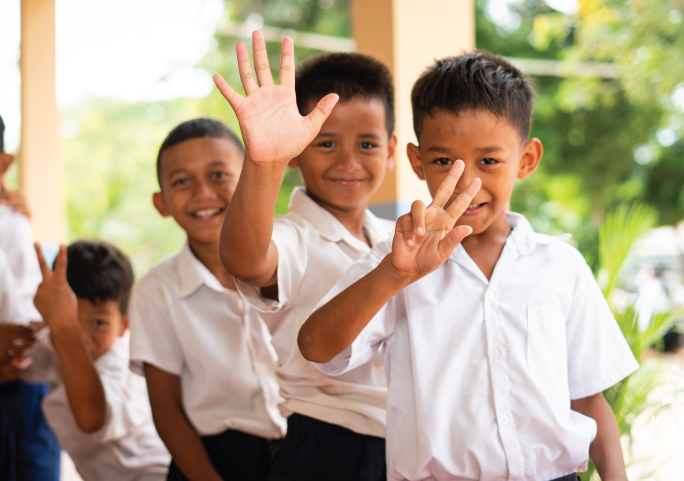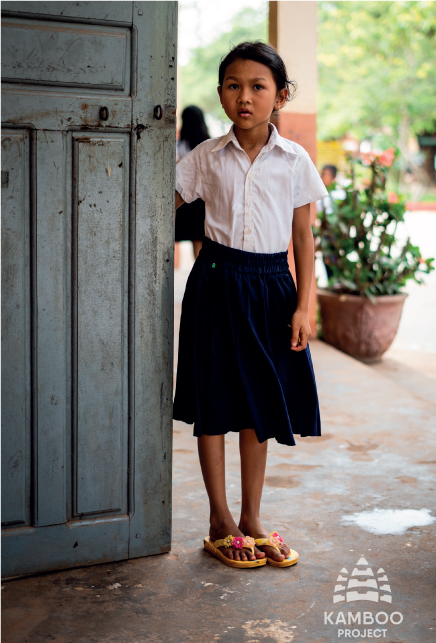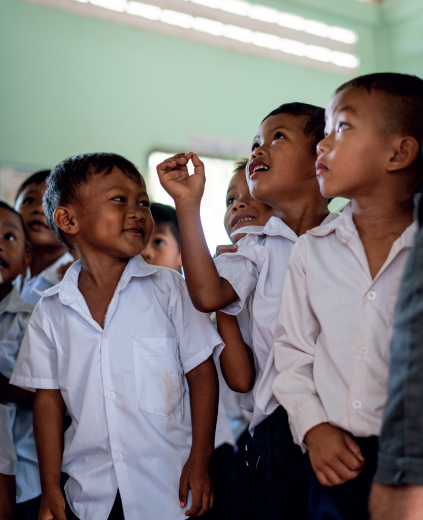 10 Geberit apprentices and 2 coaches in action for 2 weeks
At the beginning of November 2019, ten Geberit apprentices and two Geberit coaches travelled to Siem Reap. They helped with the project for two weeks. They installed Geberit sanitary facilities in the toilet house of the "Arranh Rangsey Primary School", were involved in the hygiene program for the school children and contributed actively to the completion of the project. During two weeks there was a very close collaboration between the Geberit and Kamboo Project teams. The intensive and demanding work on site demanded the best from everyone every day: at work, in the various leisure activities, in the encounter between cultures. The most important goal was achieved: to create new sanitary facilities for the school children on site! In addition, everyone learned from each other and took a lot of experience into the future.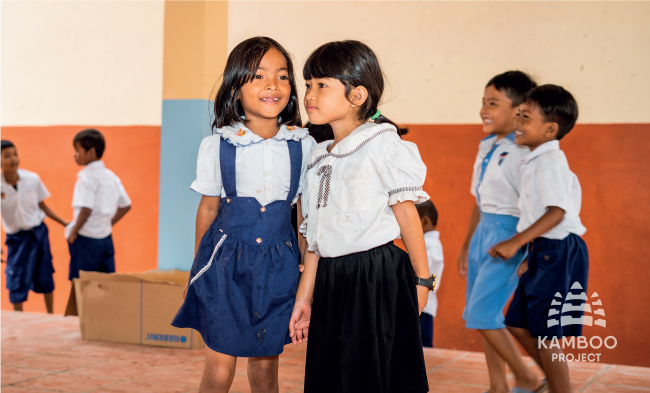 Hygiene for school children in everyday life
Kamboo Project developed a WASH hygiene program for the implementation of the "Geberit Social Project 2019". The aim is to raise awareness of schoolchildren for basic hygiene practices such as brushing teeth and washing hands and to support their daily hygiene routine. Measures taken over a two-year period include the regular training of both teachers (train the trainer) and students, all organized by Kamboo Project.
In accordance with our principles, we ensure that a sustainable impact is achieved. That is why our employees regularly visit both schools. In addition to holding events as part of the hygiene program, the functionality of the sanitary facilities is regularly checked and the water quality is measured. If necessary, we support maintenance and repairs.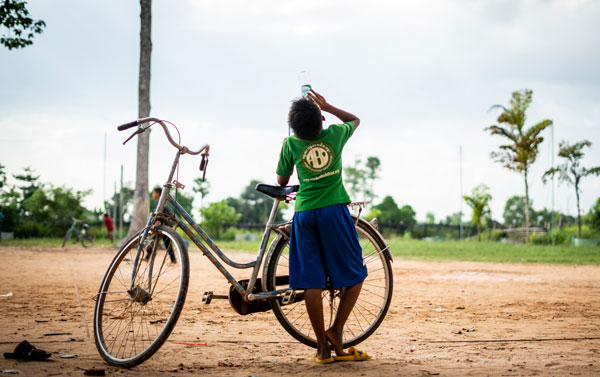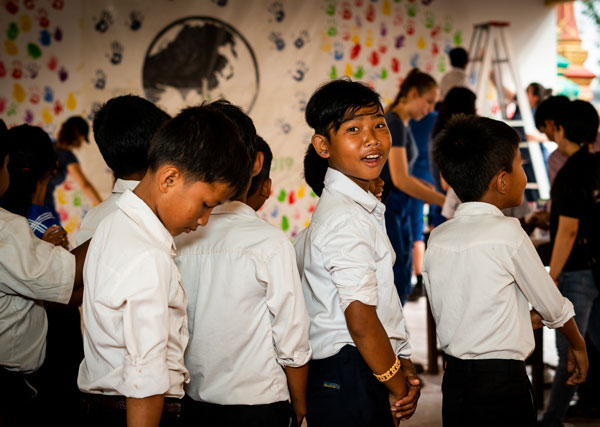 We have learned a lot…
Interview with Stephan Lienin, Executive Board Member, Kamboo Project
What significance does this project carry for Kamboo Project?
We have successfully carried out many different projects. However, the Geberit Social Project 2019 has reached a new dimension for us and was like a diploma exam for us. From first idea to completion of the construction work, we had to stay the course for 14 months, plan reliably, take risks, solve problems pragmatically and keep in constant dialogue with all stakeholders. That was a real challenge for our teams in Switzerland and Cambodia. Mastering this showed us what we were and are capable of.
What were the greatest challenges?
It was clear from the beginning that we had to plan reliably, both in terms of time and financial resource. With Geberit, we found a partner with the highest of professional standards. We had particular respect just before the start of the final phase, and with the Geberit team on site, which I was also able to experience personally. Very different people from different cultures, who under pressure to finish a joint construction project. A unique, very intense experience!
What remains for the future?
Ultimately, we are doing this for the local school students. The personal meetings and the gratitude displayed by all stakeholders were a very enriching experience for all project participants. I am proud of our team in Cambodia, who did very well. One can hardly wait to implement the next such project!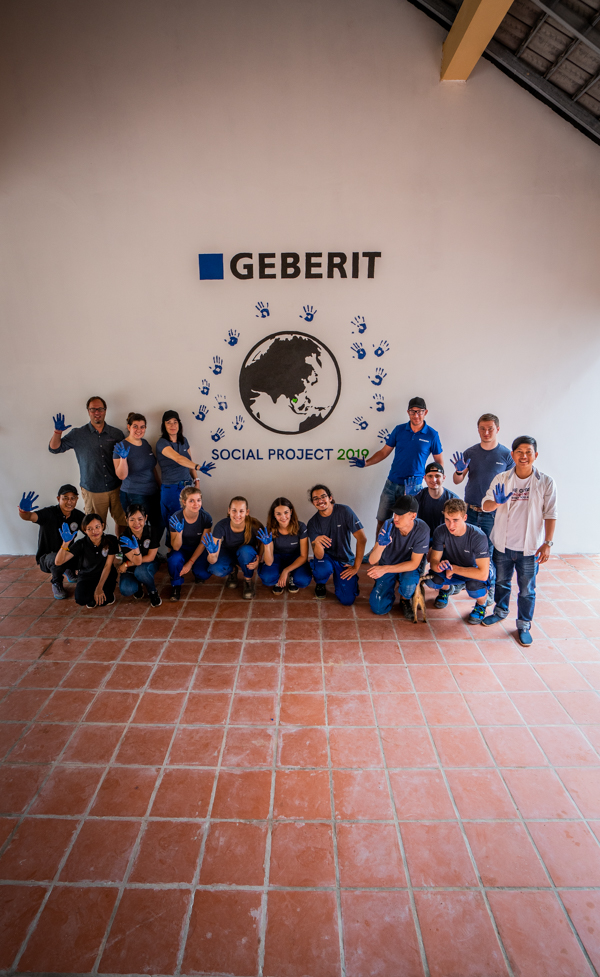 Acknowledgments and project participants
Many thanks to Geberit for their more than generous support of this initiative!
Many thanks to the Geberit team on site: to Stefanie Steiner for her leadership, to Michael Fischer for flexible and prudent technical planning and implementation, and to the learners Vanessa Hübschle, Diogo Almeida, Tonia Erni, Alina Salfinger, René Gira, Marko Track, Lukas Waffenschmidt, Nadine Korge, Markus Engel and Manuel Moser for their passionate commitment.
Many thanks to both schools and the school authorities for the pragmatic support in this project.
Project Management Team Kamboo Project:
Stephan Lienin (Executive Board)
Somalita Keo (Country Manager)
Other project workers Kamboo Project:
Thomas Gilbert (President)
Pisey Chin
Khan Ra
On site documentation, film and photography:
Tobias Burkart, Burkart Media
Support us so we can help even more
With your donation we can continue doing amazing projects like this in the future